Lopalmed Test Box
Special Introductory Price
Regular price
Sale price
$34.99 USD
Unit price
per
Sale
Sold out
In stock, at your home in 3-15 days
Box Contents

1 x 200 ml callus remover PLUS & cuticle remover PLUS,
+ 1 x approx. 20g natural cotton (manufacturer varies),
+ 5 x callus spatula plastic
Ingredients

Lopalmed callus & cuticle remover:

ingredient (inci): aqua, propylene glycol, sodium hydroxide, glycerin, urea, panthenol.

Content: 200 ml
Hazard warnings

Avoid eye contact.
Lotion contains alkali and can cause blindness.
Keep out of the reach of children!
Do not apply to broken skin!
Do not use lopalmed lotion on your face or on sensitive skin.
Avoid applying unnecessary pressure when opening the bottle
to avoid uncontrolled splashes.
When opening, keep the mouth of the bottle turned away from your face
.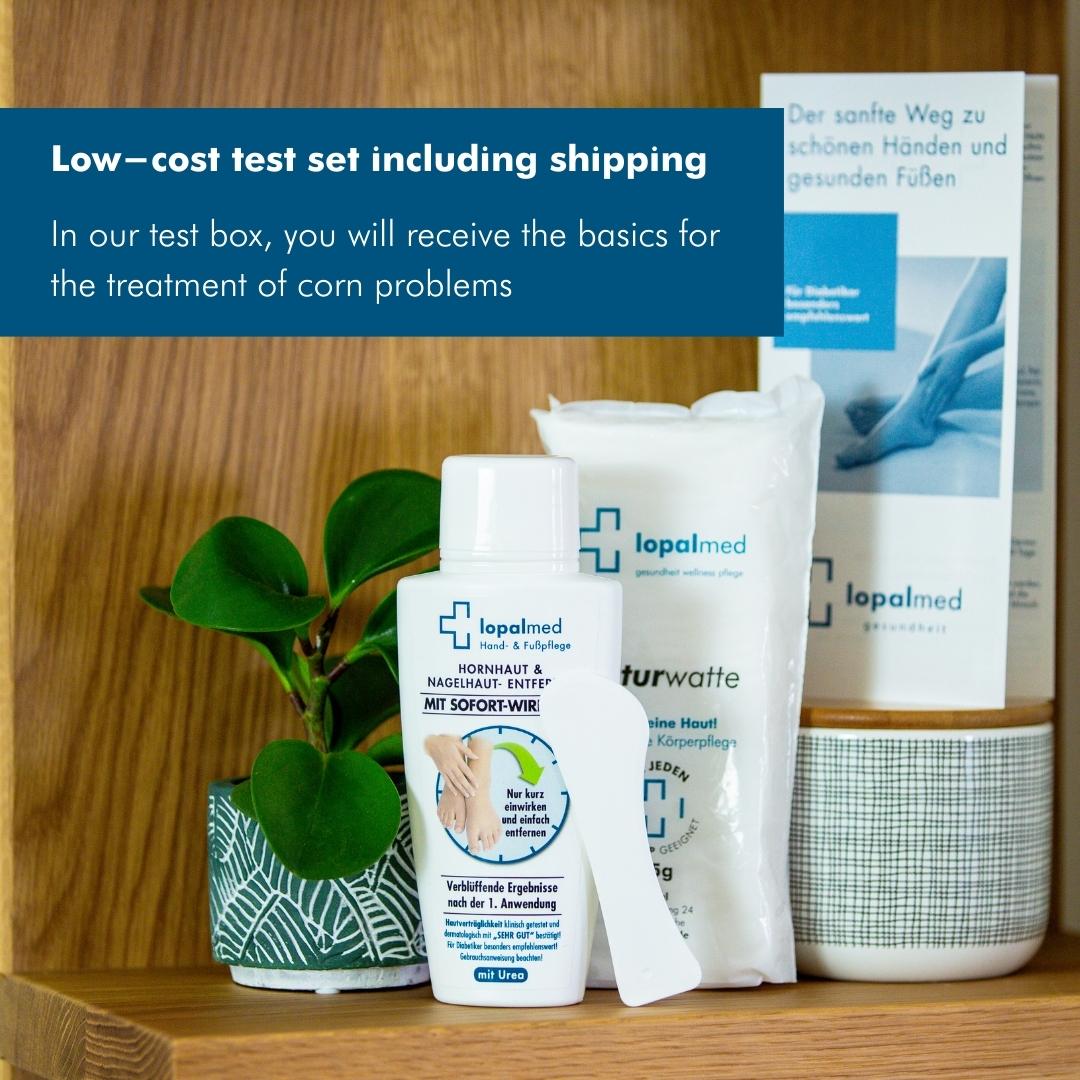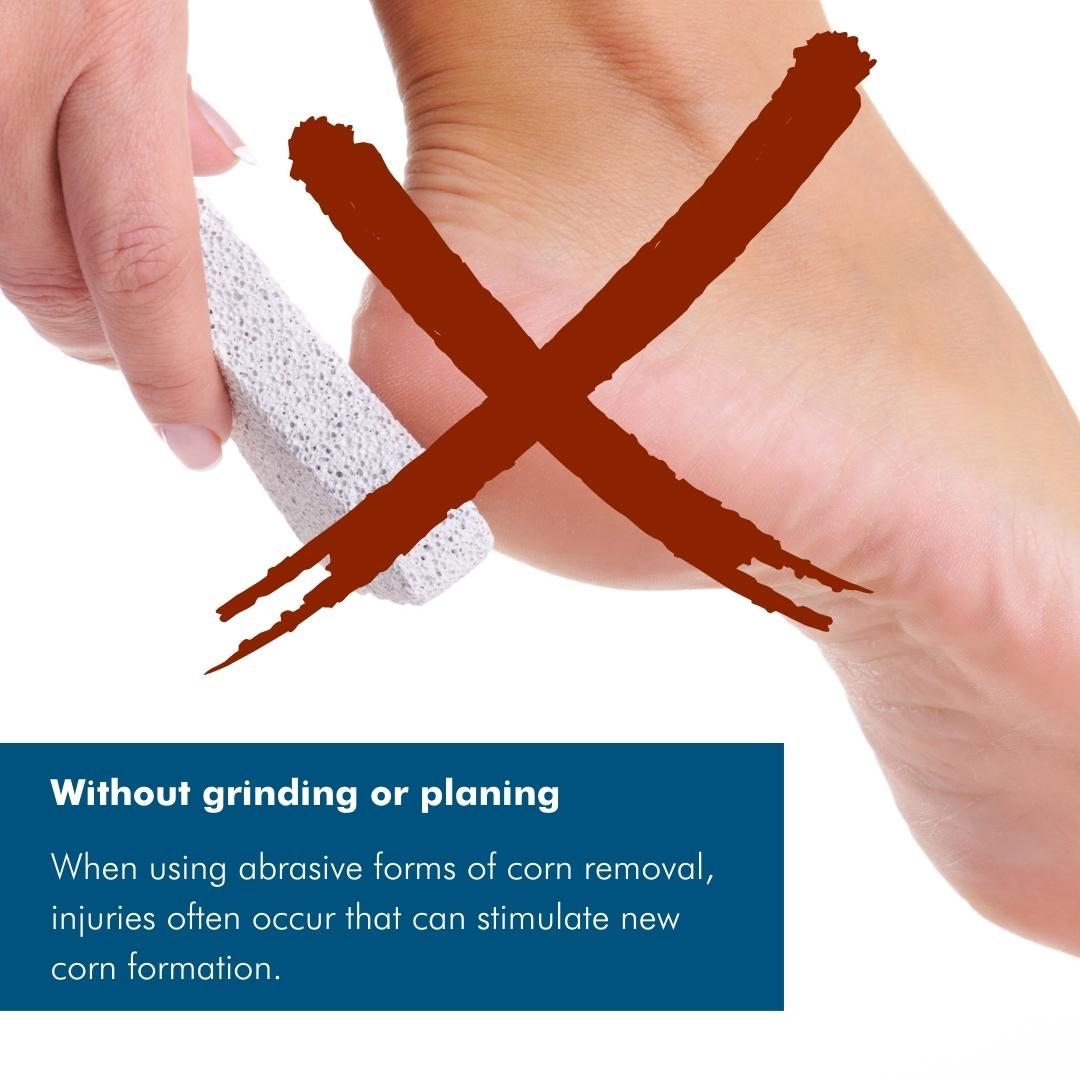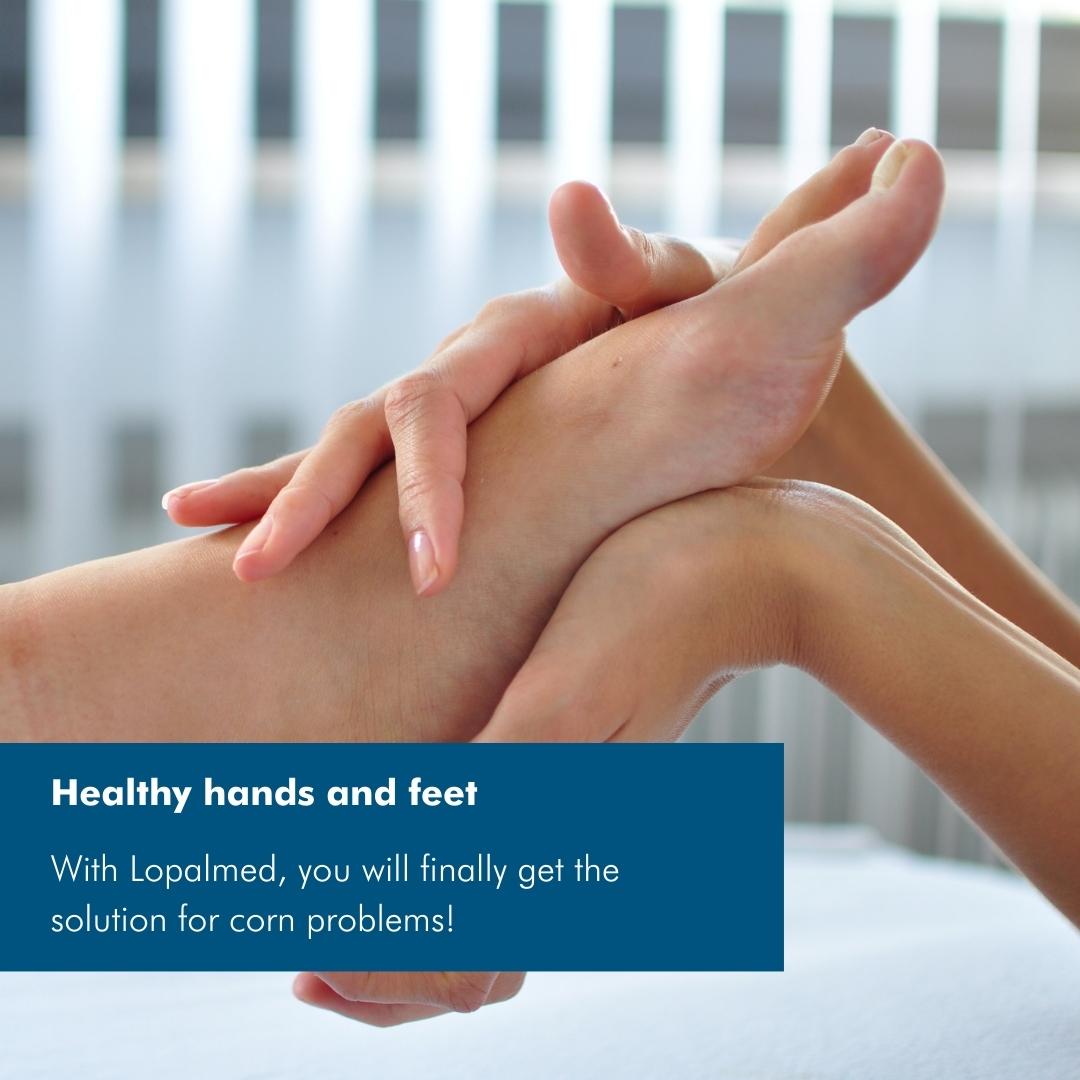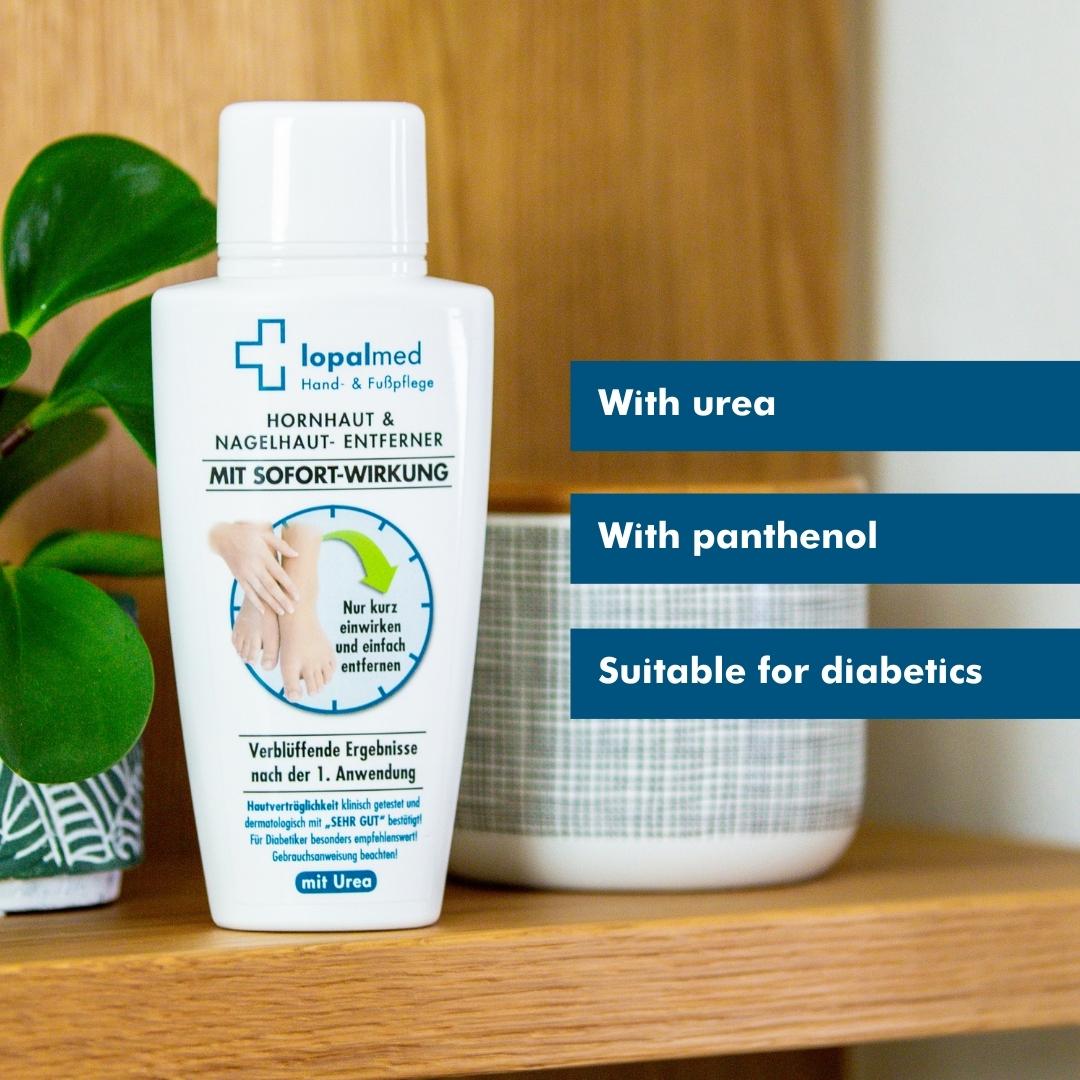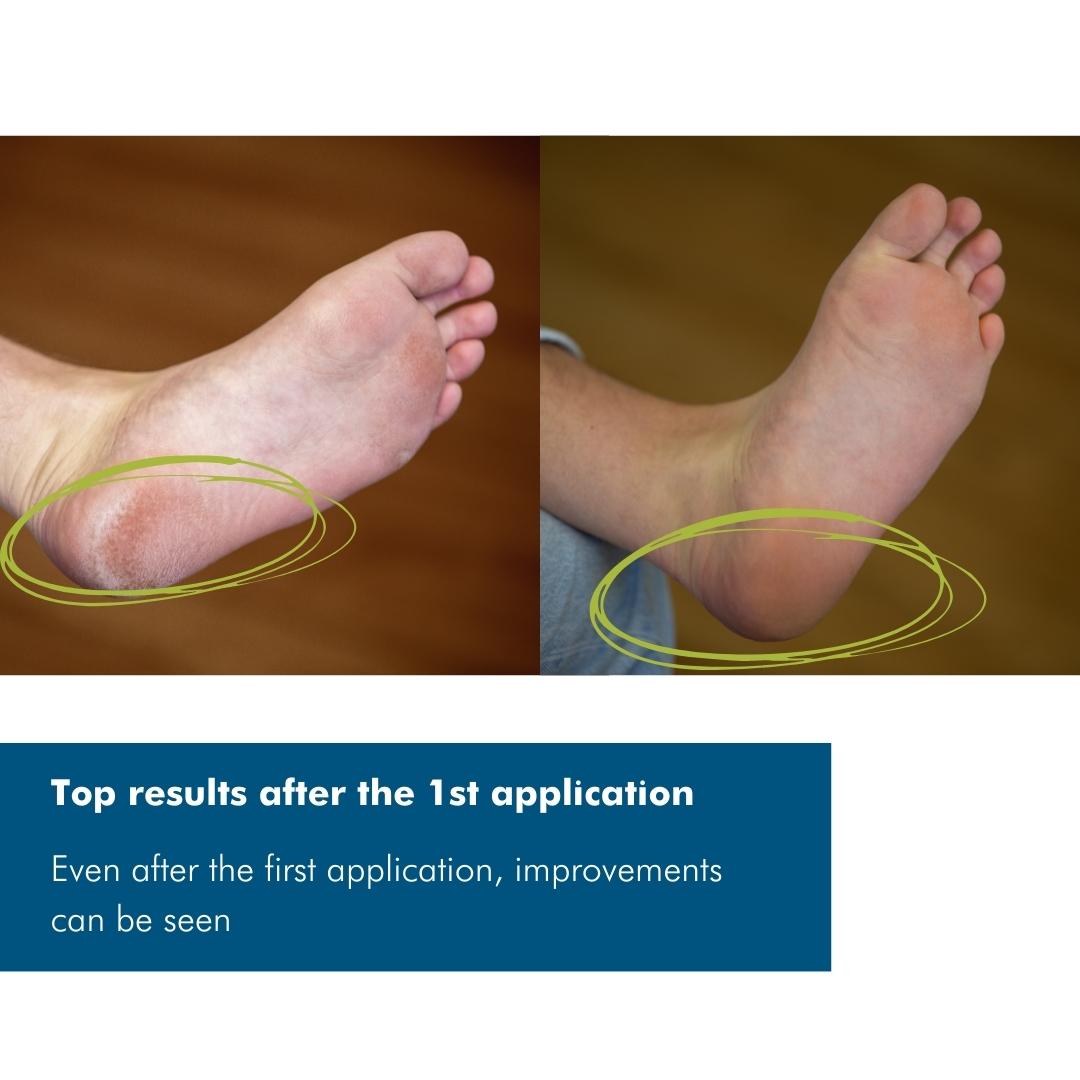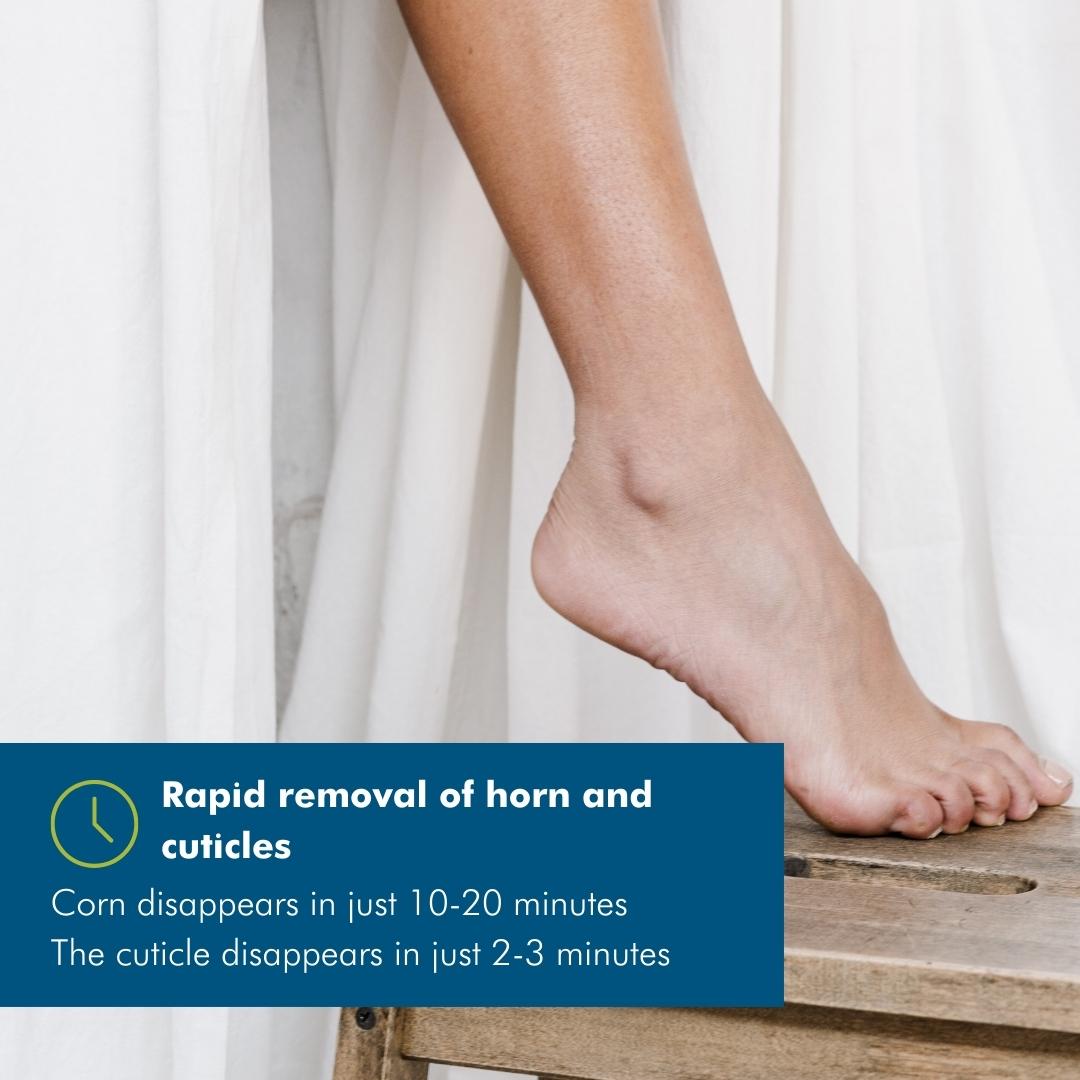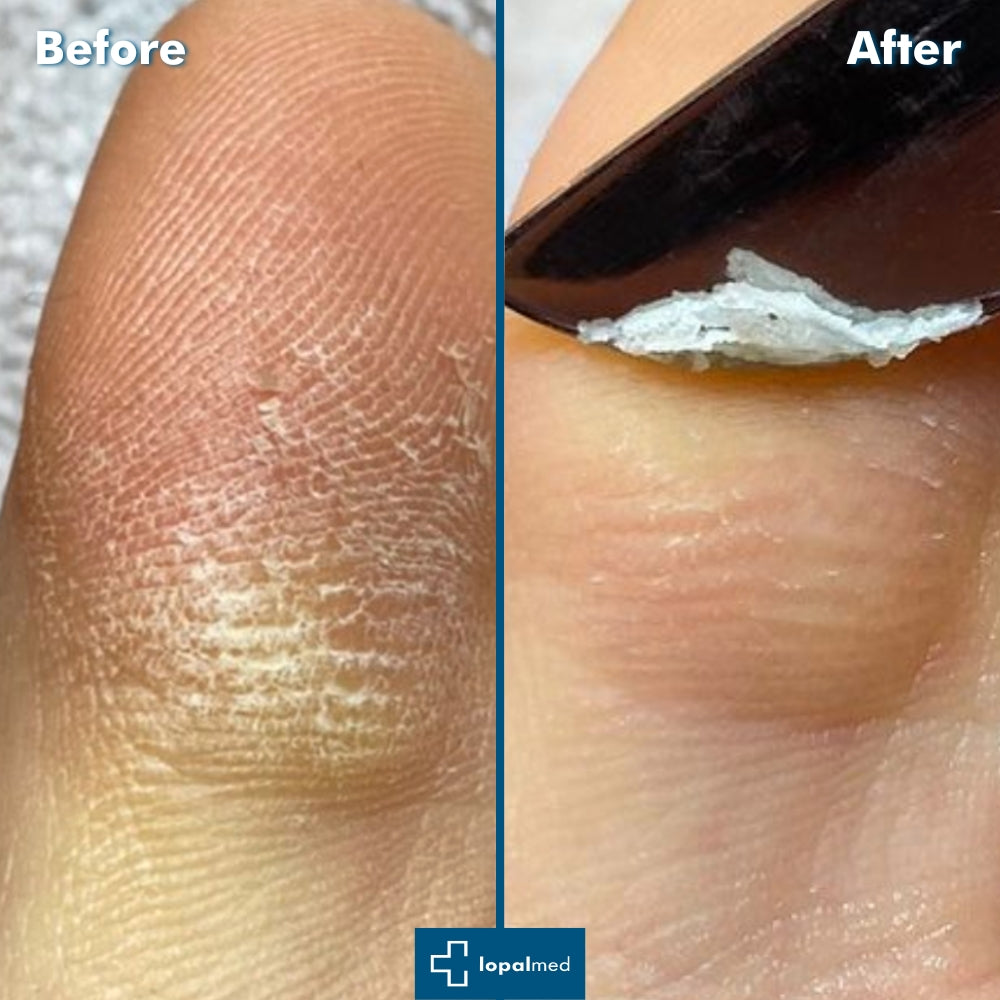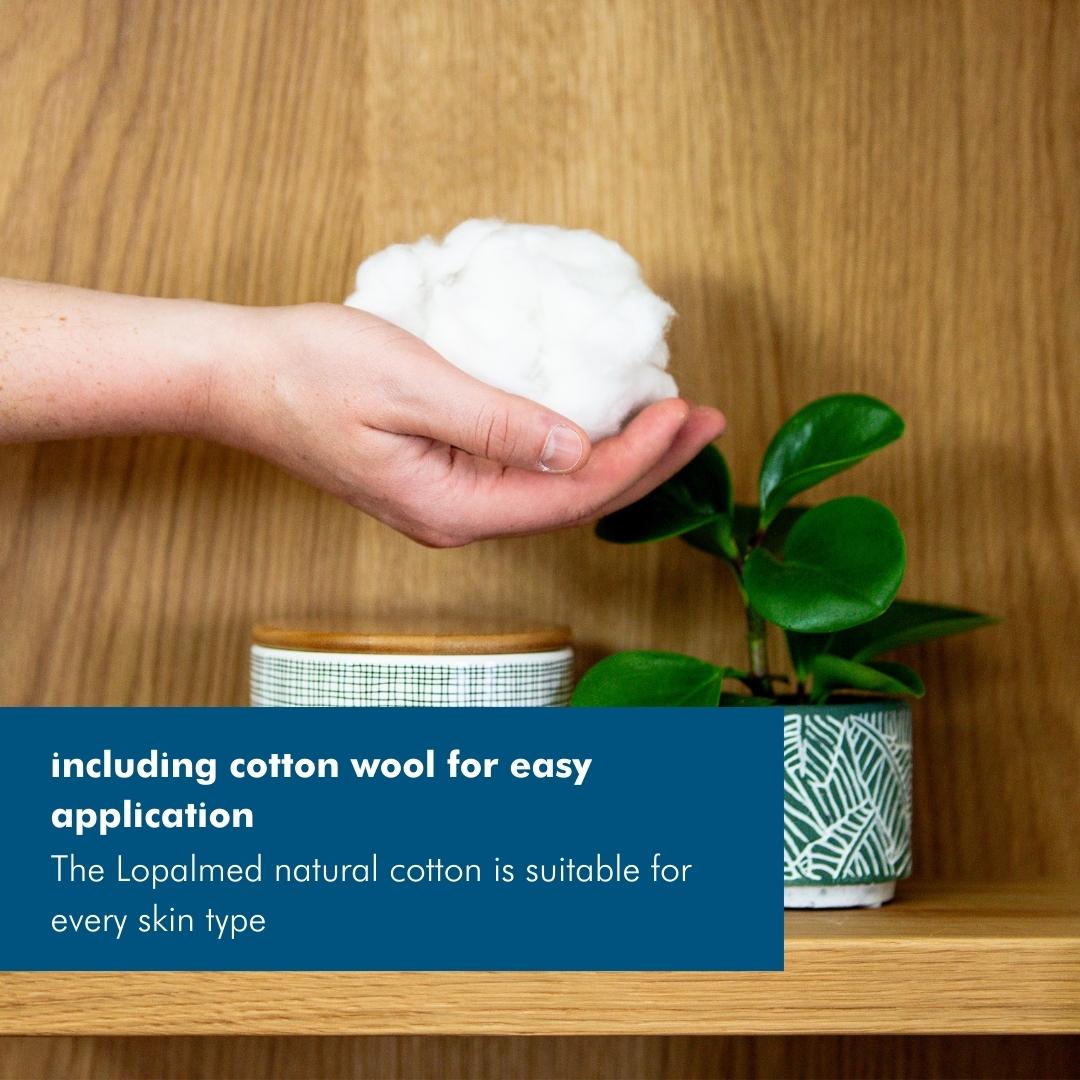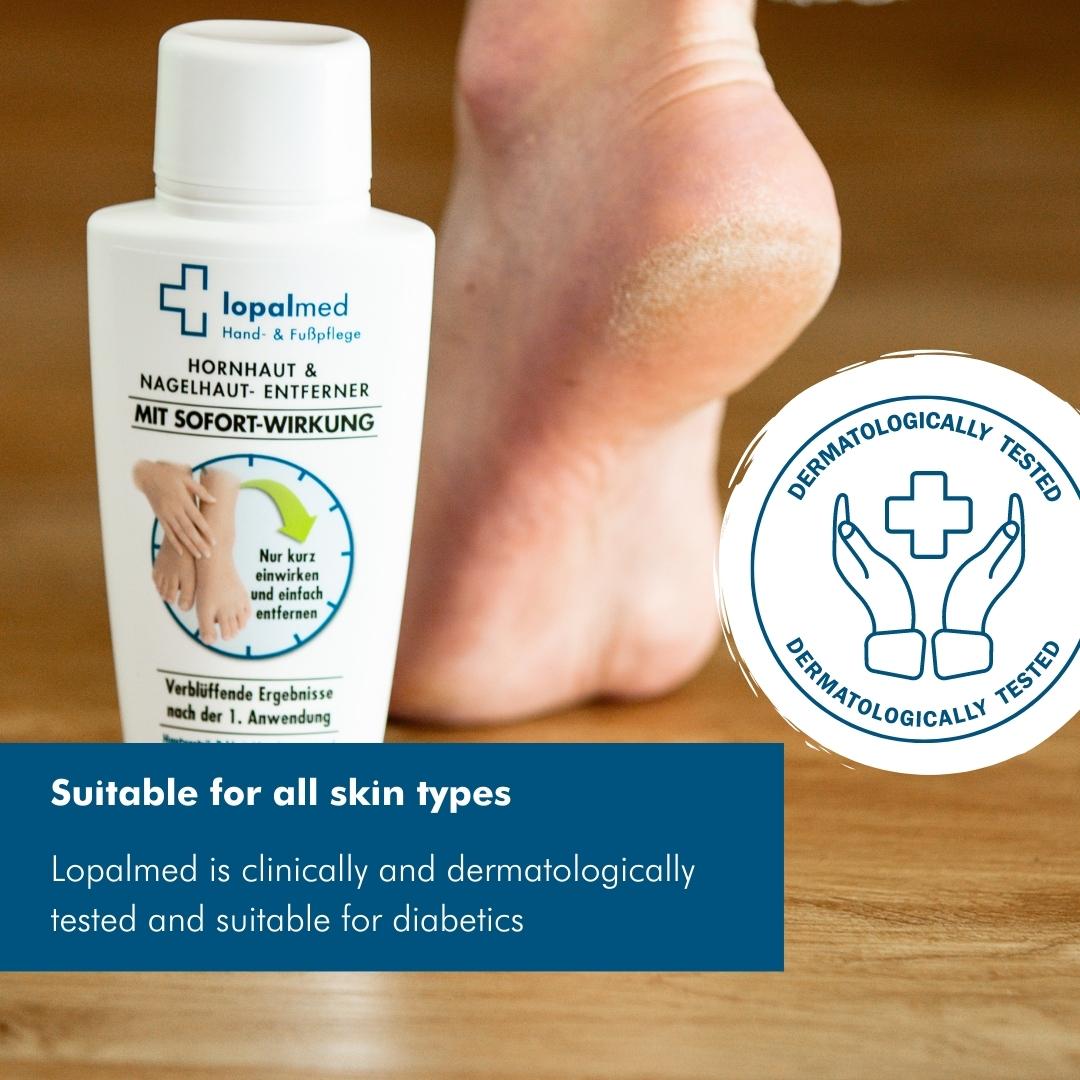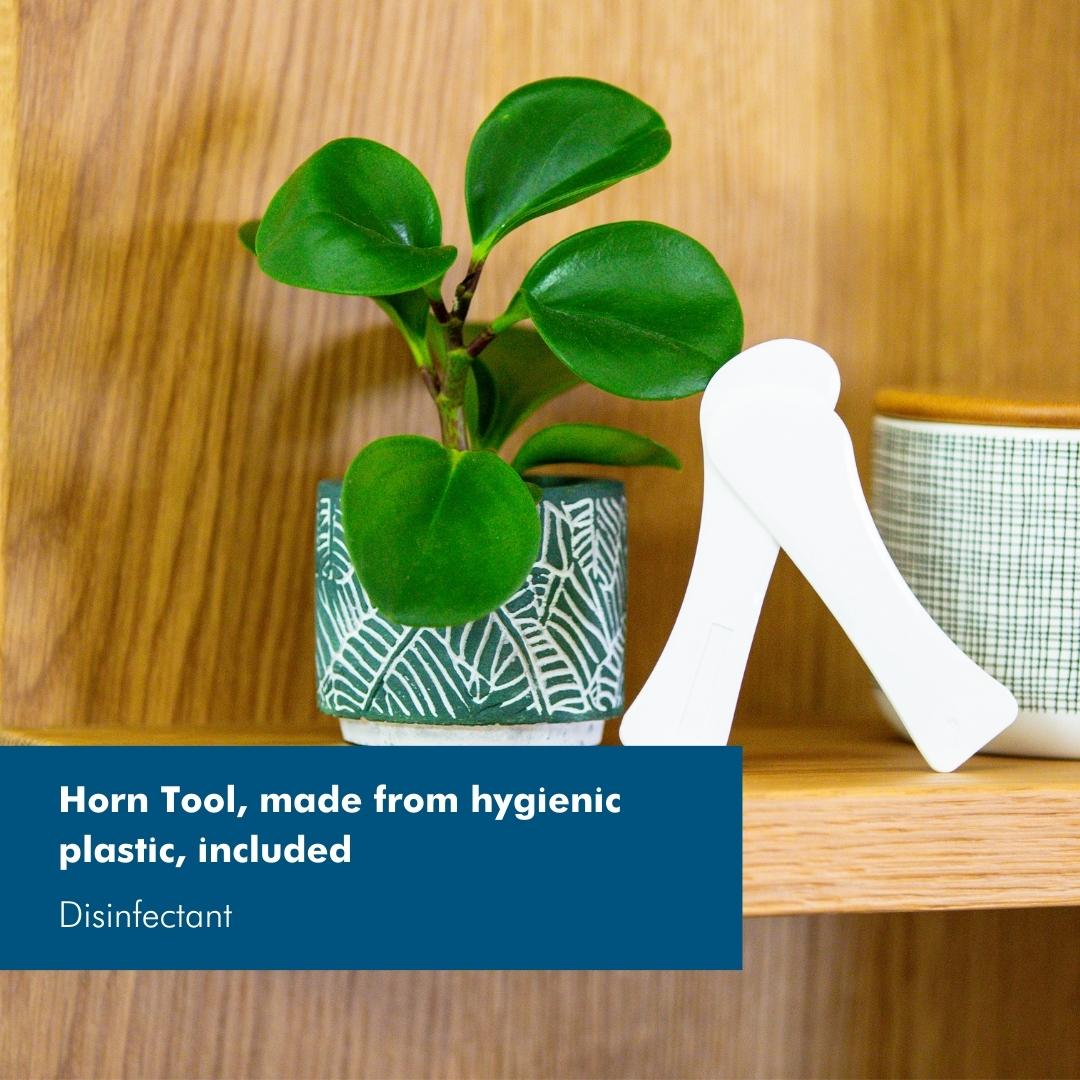 With the Lopalmed Callus & Cuticle Removal Lotion, you have the option of gently removing calluses and cuticles without using a pumice stone, rasp, callus file or cuticle scissors.
The advantage: the healthy skin is not stressed or even injured (especially suitable for diabetics) and thus the unnatural formation of calluses is counteracted.
The areas to be removed are softened with the lotion and removed with a blunt callus scraper or cuticle pusher like jelly
Effective after the 1st application

Dermatologically tested

Free shipping

Made in Germany

Without animal ingredients

No risk of injury
I am very satisfied
For years I had problems with horny heels, sometimes even bloody painful cracks. Despite regular podiavers, I didn't get it under control. Now, with Lopalmed, my feet are finally in top condition! Thank you
Fungerar så bra!
Äntligen en produkt jag är nöjd med! Tyvärr har jag väldigt torra fötter och det har varit mycket katastrofalt på senaste tiden. Gick till och med till en fotvårdsspecialist och hade inte samma framgång som med första användningen av Lopalmed. Nu har jag använt den en andra gång och jag är jättenöjd. För mig har det blivit en förbättring med 80 procent och jag överdriver inte. För mig är det som ett underverk, särskilt när jag tänker på allt jag redan har provat. Jag kommer definitivt att beställa det igen. :)
¡Funciona tan bien!
¡Por fin un producto con el que estoy satisfecho! Desafortunadamente, tengo los pies muy secos y últimamente ha sido muy catastrófico. Incluso fui a una pedicura y no tuve el mismo éxito que con la primera aplicación de Lopalmed. Ahora lo he usado por segunda vez y estoy súper satisfecho. He experimentado una mejora del 80 por ciento, y no exagero. Para mí es como un milagro, especialmente cuando pienso en todo lo que ya he probado. ¡Definitivamente lo volveré a pedir. :)
Funciona tão bem!
Finalmente um produto com o qual estou satisfeito! Infelizmente tenho os pés muito secos e ultimamente tem sido muito catastrófico. Até fui a um pedicure e não tive o mesmo sucesso que tive com a primeira aplicação de Lopalmed. Agora usei-o pela segunda vez e estou super satisfeito. Notei uma melhora de 80 por cento, e não estou exagerando. Para mim, é como um milagre, especialmente quando penso em tudo o que já experimentei. Vou definitivamente encomendar novamente. :)
Działa tak dobrze!
Wreszcie produkt, z którego jestem zadowolony! Niestety mam bardzo suche stopy, a ostatnio było to bardzo katastrofalne. Nawet byłem u kosmetyczki i nie odniósłam takiego samego sukcesu jak przy pierwszym użyciu Lopalmed. Teraz użyłem go drugi raz i jestem super zadowolony. Zauważyłem poprawę o 80 procent, i nie przesadzam. Dla mnie to jak cud, zwłaszcza gdy pomyślę o wszystkim, co już próbowałem. Na pewno zamówię ponownie. :)
Frequently Asked Questions
Does Lopalmed help against hard skin on the heels?

Yes, Lopalmed is perfect for removing excess calluses on heels, toes and all areas of the feet that are affected by calluses.

Lopalmed removes calluses very gently and you do not need any tools such as callus rasps or other mechanical devices! Our product softens the excess skin and you can then simply push it away with a spatula!
How can I pay?

You can choose between the following payment methods on the checkout page:

- PayPal

- Credit card

- Instant bank transfer

- Purchase on account (30 days)
What do I need the cotton for?

The cotton is needed to apply the Lopalmed callus and cuticle remover to the affected areas.

First you put the cotton on the affected area and then drip our remover onto the cotton. This prevents dripping and the liquid can penetrate the callus.
Can I also use Lopalmed for my cuticles?

Yes, the wider range of application is for treating annoying cuticles. You only have to leave the cuticle remover from Lopalmed on for 1-3 minutes, after which the skin can be easily pushed away!

Be sure to order the manicure and pedicure box, so that you have all the tools you need to remove your cuticles.
Can Lopalmed Callus & Cuticle Remover be used during pregnancy or breastfeeding?

We have no data showing that Lopalmed's Callus & Cuticle Softener or Callus & Cuticle Remover causes problems during pregnancy or while breastfeeding. However, since safety during pregnancy and breastfeeding has not been explicitly investigated, we do not recommend using the product during pregnancy and breastfeeding. You are also welcome to seek medical advice.
How long does the delivery take?

We ship from Germany and the order usually takes 2-10 business days until it is on your doorstep and you finally get velvety soft hands and feet!
How do I use the Lopalmed products from the premium box?

Apply the remover lotion once a week until you feel that the callus has been sufficiently removed. Use the restorative cream right after the treatment and in between treatments in the morning after getting up. Apply the callus reducing cream in the evening.
Can the product also be used if you have gel nails, or does it attack them?

Yes, Lopalmed can also be used on gel nails. The product does not contain salicylic acid or similar aggressive ingredients.
3 steps for instant effect
Application for calluses:
Apply Lopalmed with cotton wool

Leave on for 20 minutes

Remove calluses and care with cream
Use on cuticles:
Apply Lopalmed to the affected area

Leave on for a short time

Scrape off skin and apply cream
Other boxes
Regular price

Sale price

$49.99 USD

Unit price

per

Regular price

Sale price

$34.99 USD

Unit price

per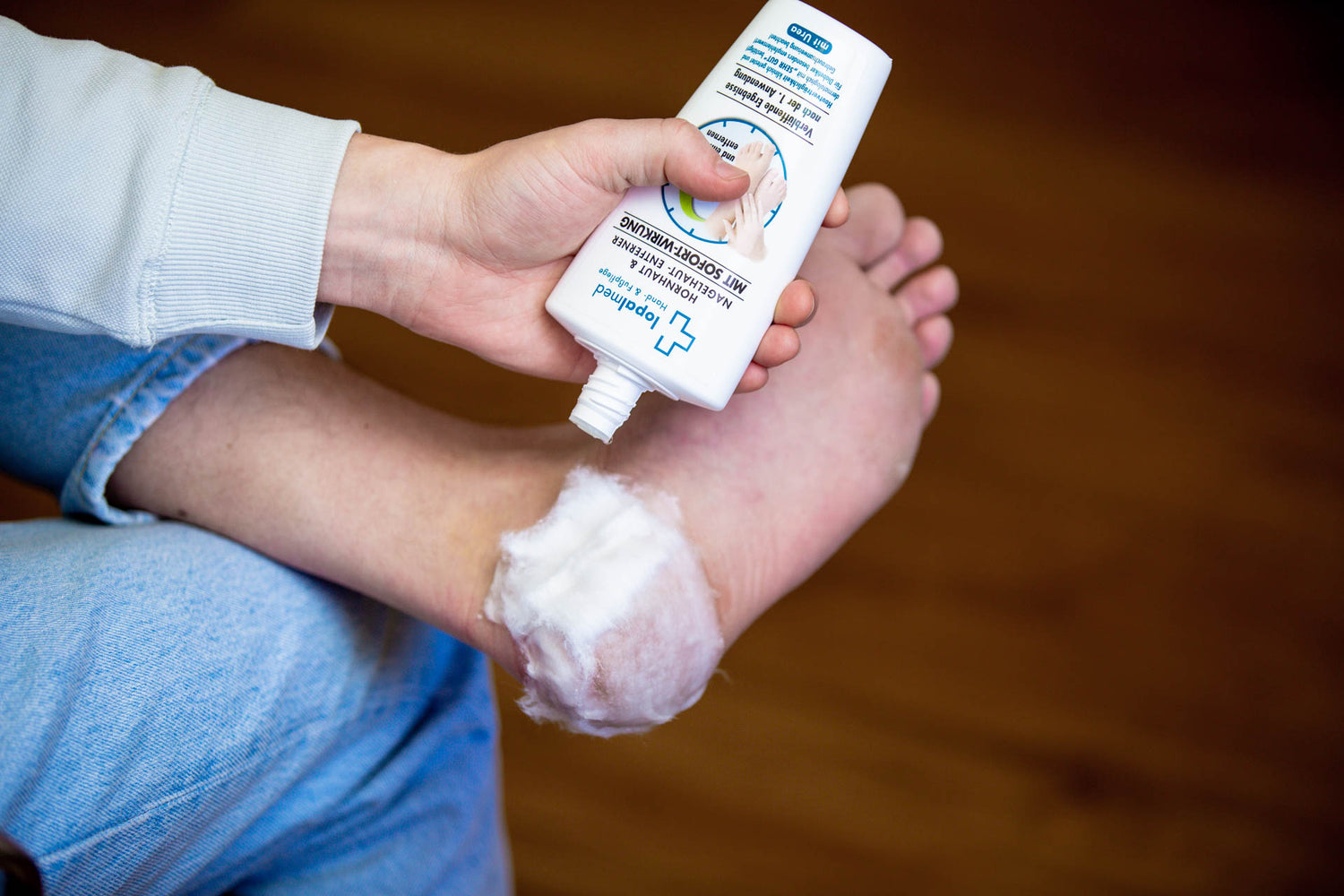 Clinically confirmed
The skin tolerance of our products is clinically tested and dermatologically confirmed with "very good"!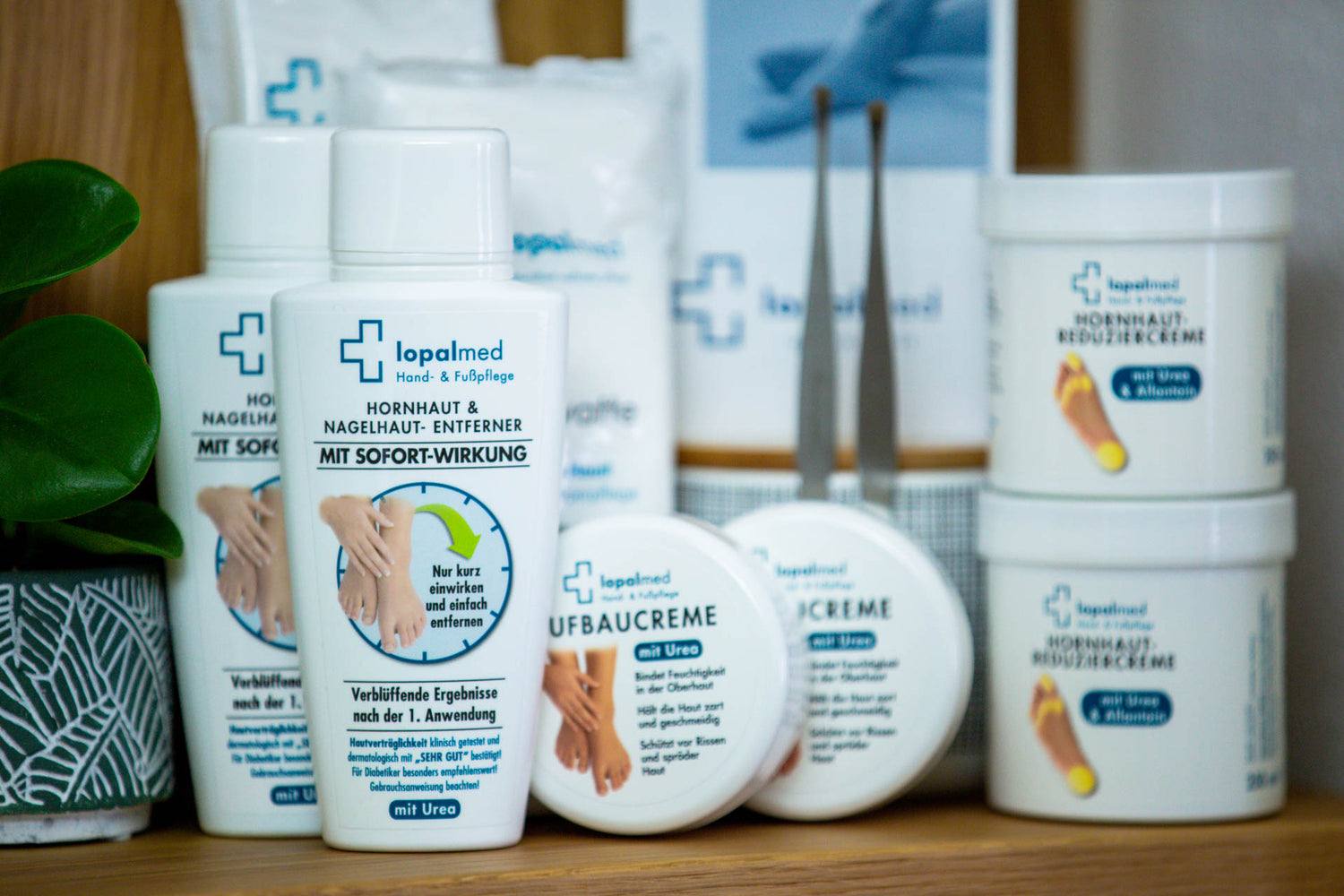 Wellness for the skin
With our range of products, cracked skin and painful soles or hands are a thing of the past. Try it!